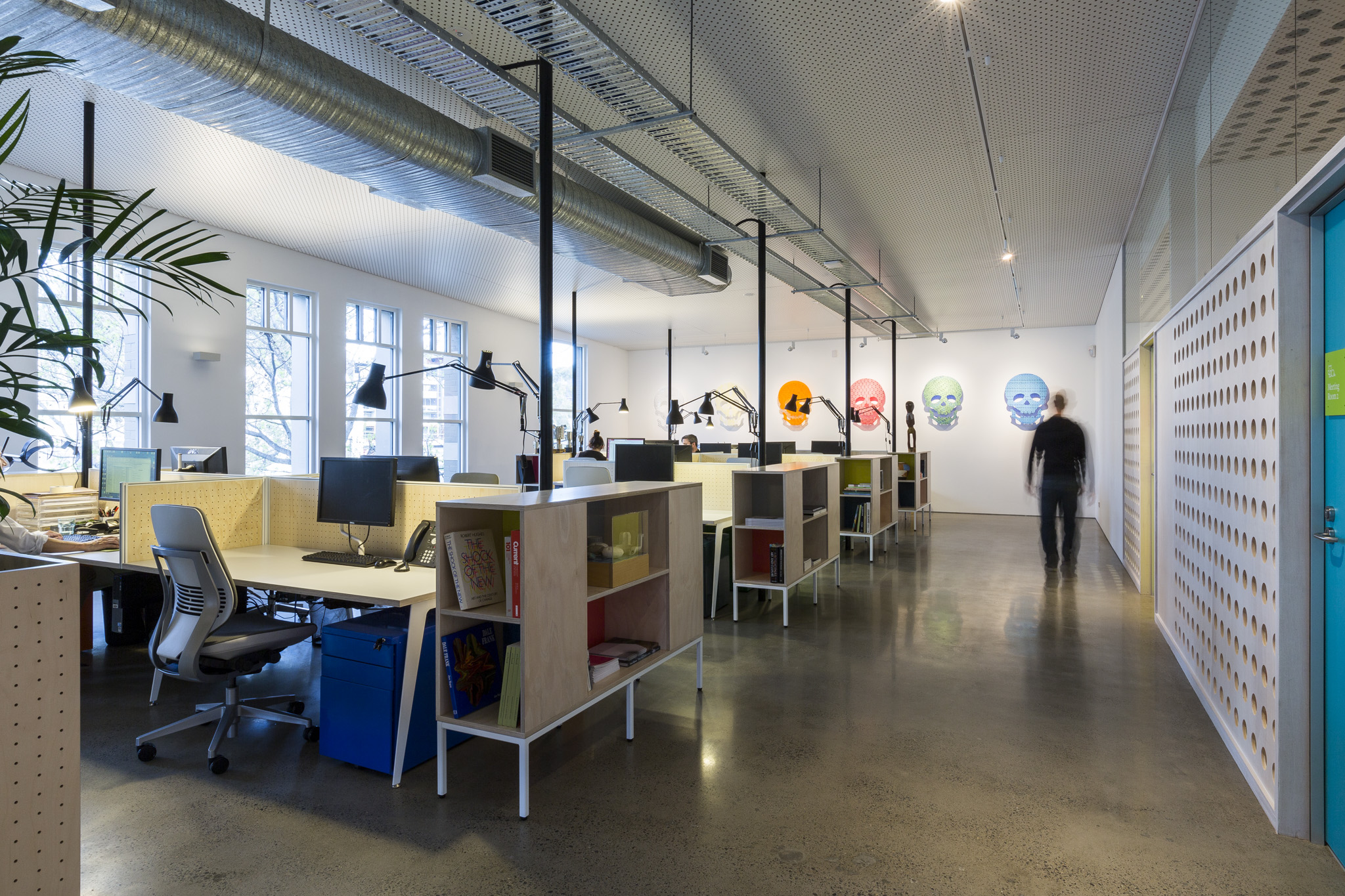 ARTBANK
Sydney Headquarters - workplace + gallery
2013-2014
The Artbank fitout is inserted into an existing warehouse building in Waterloo, adjacent to the Danks Street Gallery Precinct. The heritage façade and entry tower of the building - once the Wormald Bros. factory constructed in 1912 - provides a distinct public face to the Federal Government initiative that aims to support and promote the value of Australian contemporary art.

Playfulness and connectivity are the drivers of the design. The new interior spaces provide a strong visual connection between the administration and the art storage. From the meeting rooms, visitors can look down into 'the machine' - a huge black steel structure of sliding panels on which the majority of the art collection is hung.
The workspaces are located along the street front, looking out into the trees. Privacy within the open plan office is mediated through perforated screens, custom bookshelf units and planters – providing a layering of interesting and varied patterns, texture and colour.
High level glazing is used to allow a continuation of natural light and space where visual separation is required – such as in the meeting rooms and client lounge. Carpet in strong clashing colours and perforated ceilings in two different apertures contrast with the white walls and neutral concrete floor and provide acoustic attenuation to the work zones.

Views into the dramatic black entry tower are captured throughout the workspace - framing the specially commissioned kinetic artwork by Ross Manning. The polished black concrete floor of the tower reflects the suspended sculpture above, creating a dramatic entry point into the new facility.
Mirrored faces to the reception desk and publically accessible bathroom create unusual and surprising spaces with inspiration drawn from Yayoi Kusama's Infinity Rooms and Donald Judd's minimalist art objects.

Project Team: Amelia Holliday, Isabelle Toland, Nina Tory-Henderson
Structural Engineer: Starc Engineering
Builder: Affinity Construction Management
Mechanical Engineer: MPES Consulting
Electrical / Lighting: WSP
Signage: Collider
Photography: Tom Ferguson and Petrina Tinslay